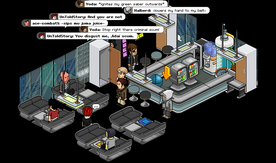 STAR WARS ROLEPLAY

Edit
AUSWRP is the Star Wars Roleplay community on the Australian Habbo Hotel.
10/11/09. The two week trial of the major Non-FS shift has concluded with wild success, with roughly 80% of the community prefering the new system. A final revote is underway and should be completed soon.
Star Wars Roleplay
Edit
The SWRP community has been around since the opening of the Australian Habbo Hotel. Players roleplay as Jedi, Sith and a whole assortment of non Force sensative characters. There is a combat system based around describing actions.
SWRP exists on other Hotels, namely the UK and American Hotels, and it originated on the UK hotel circa 2002.
Latest activity
Edit